OUR ROOTS ARE IN INFLUENCE
Ask any influencer agency if their founders are influencers, and watch them balk.
Without a strong understanding of the influencer landscape, campaigns will spike, and then fall flat. Yet most influencer marketing agencies come from a marketing-only background. Luckily for you, we understand influencers like the back of our hand because we are both influencers and marketers.. So we have firsthand experience in working with brands, building authentic relationships with audiences, and creating campaigns that drive sales long after the initial trigger.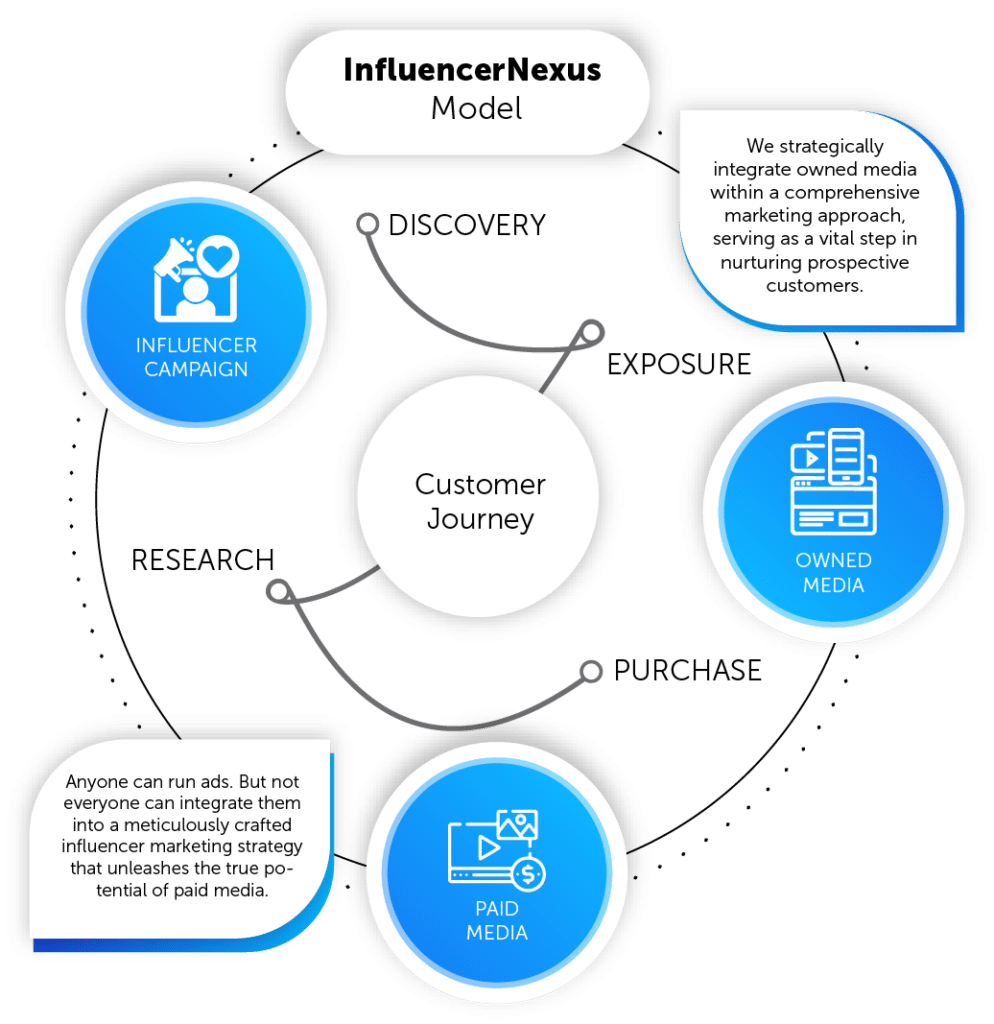 Traditional Influencer Campaigns
InfluencerNexus doesn't just stop at
influencer campaigns
If you're seeking a run-of-the-mill influencer campaign, just google the hundreds of other influencer agencies on the web. But influencer campaigns work within a larger context, not in a vacuum. So if you want to find, nurture, and close customers with influence as your trigger — welcome home.
— We build unignorable campaigns that garner insta-credibility and conversions at scale
We'll work as an integral member of your organizations' marketing department to help you dominate in your vertical.
TRADITIONAL INFLUENCER CAMPAIGNS
VS
INFLUENCERNEXUS
Their campaigns peak, and then fall flat. Ours spike, and then keep on growing.
While traditional influencer campaigns are all about boosting your popularity, InfluencerNexus is about using influencer hits as a stepping stone for your brand's growth and advancement.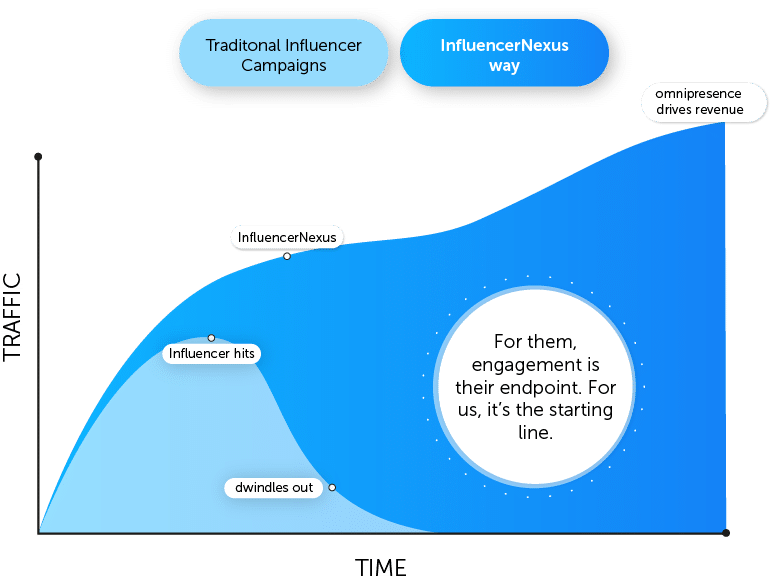 — We Build Influencer Campaigns That Disrupt Market Share
We combine analysis and strategy with design and implementation. From building an all-encompassing marketing strategy, to implementing every detail with laser precision, our boutique firm delivers
unique solutions that work.
SaumyaFounder
"Throughout our partnership, Sarah and the team have shown comprehensive ability to execute campaign strategy based on our goals. Since working together, our inbound leads have increased by 5x. They know exactly where to double down to increase top line revenue without increasing back end costs. There's a lot of influencer marketing firms out there, but our experience working with the team has been incredibly refreshing and something this industry needs. Looking forward to our continued work together!"
JohnFounder
"In six months of working with Sarah and the team, I have exponentially grown my marketing department staff, and increased my company's top-line revenue by 400%. The team has built a full-service content strategy that has increased my inbound leads by 3x. Everyone at IN listened to the specific needs of my brand, and helped me and my team execute accordingly. My business wouldn't be even close to where it is today without them. Anyone looking to build brand credibility and top-line should work with IN."
JonathanCEO
"The team at IN has provided our company with expert advice that has significantly improved our marketing and business development practices. We were stuck at the same revenue for 12 years before working with the team. I wish we had found them earlier! I highly recommend them to any professional brand that needs to grow their brand."
AmandaCEO
"The team at InfluencerNexus has literally transformed the trajectory of my company. They've taught us so much about building content strategy for specific channels in a way that strengthens the trust-factor of our clients. We've gained so much clarity on exactly how to communicate our client persona in a way that will draw them in. This has been the key to getting consistent qualified inbound prospects. Thanks to them, I am now able to grow my business with a sound marketing strategy that works. If you want to work with incredibly brilliant people that will make sure you meet metrics and get results, hire them. You will win."
Behind The Scenes Influencer Series